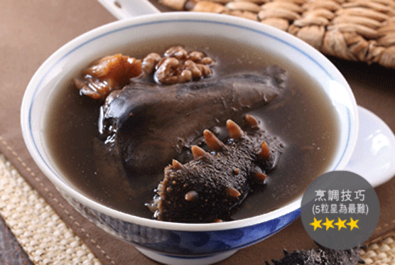 Function:
Yin-Enriching and strength kidney, replenish blood and improves the skin
Step:
Remove the internal organs and wash the Kanto sea cucumber (remember to soak in water beforehand).

Remove the head and skin for silky fowl, cut into small parts, Cook in boiling water with garlic and scallion for a while. Take them out for later use.

Wash Hokkaido dried scallop (Medium), soak in water for later use.

Soak walnut kernel in water for 1 hour, and wash.

Heat up a wok, add 1 tbsp of oil, sauté ginger flakes, put in silky fowl, walnut kernel and dried scallop and cook for 1 minute, fill in 2250ml (around 9 bowls) of hot water along with soaked water for dried scallop.

Cook with full flame until boiling, turn to medium heat and cook for 20 minutes, add sea cucumber and continue to cook for 45 more minutes, add seasonings and be ready to serve.
Good Choice for Winter

Author :

HKJEBN

Ingredients

(Serves 3)

Kanto sea cucumber (soaked) (6 pieces, equivalent to around 40g dried sea cucumber)

Hokkaido dried scallop (Medium) (6 pieces)

Walnut kernel (75g, around 4 tbsp)

Silky fowl (1, around 725g)

Ginger (2 pieces)

Scallion (1 piece)