Category :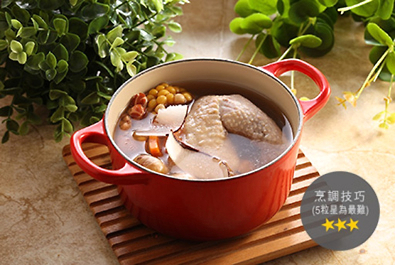 Step:
Put the frozen Canadian white chicken into the fridge (0-8℃) to defrost for about 8-12 hours.

Wash and blanch the chicken to remove the blood and fat. Drain well. Cut it into 2-3 pieces. Set aside.

Put 4L of water into the soup pot, and then put all the ingredients (white chicken, natural African sea coconut, chestnut, corn, euryale, carrot, sweet and bitter apricot kernels, glazed dates).

Bring to the boil in high heat, then turn to medium-high heat and boil for 2.5 hours. Turn off the heat. Add salt and ready to serve.
Homemade Soup

Author :

HKJEBN

Ingredients

(4 servings)

Frozen Canadian White Chicken 1/2

Natural African Sea Coconut 20g

Glazed Dates 2 pcs

Euryale 20g

Sweet and Bitter Apricot Kernels 15g

Chestnut 100g

Corn on the Cob (Cut into sections) 2 ears

Carrot (Cut into chunks) 1 whole

Water 4L

Salt Adequate amount