Category :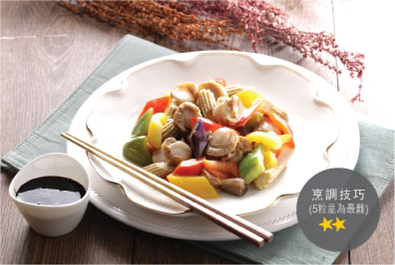 Step:
Cut the prepared vegetables into appropriate sizes and set aside.

Mix and stir the honey and bonito soup, then heat for 3 minutes and set aside.

Dip baby scallops into cornstarch.

Heat up the pot with sesame oil and then add minced garlic, grated ginger to stir fry.

Add the chopped vegetables, baby scallops and the prepared sauce (Step 2).Stir-fry them for about 2-3 minutes

Season with pepper salt and then place them on the plate.

Put Italian balsamic vinegar and syrup into the pot. Heat up and stir for 4-5 minutes until they have thickened to a sauce for later use.

To serve, enjoy with black vinegar sauce.
Reunion Feast

Author :

HKJEBN

Ingredients

(2 servings)

Frozen baby scallop(25-45 pcs/lb) 12-16 pcs

Tri-coloured bell peppers a half for each color

Baby corns Adequate amount

Eggplant 1/3 pcs (Add different vegetables upon personal preference)

Honey 2 tablespoons

Bonito soup 2 teaspoons

Cornstarch Adequate amount

Pepper salt A little

Garlic (minced)、Ginger (grated) & Sesame oil Adequate amount

Italian balsamic vinegar 5 tablespoons

Syrup 2 tablespoons