Category :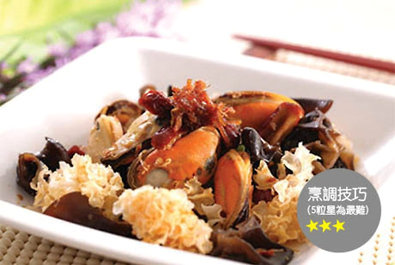 Step:
Immerse Zhangzhou Snow Fungus (M) and Black Fungus in water for 2 hours, cut the stalks, and tear into tiny parts. Wash Red Dates, remove the seeds and cut thinly, set aside.

Defrost New Zealand Frozen Mussel Meat, bring a pot of water to boil, add a few drops of oil, simmer for 1 minute, drain and set aside.

Heat up a wok, add 1 tablespoon oil, sauté garlic and XO sauce, put Snow Fungus, Black Fungus, Red Dates and seasoning and cook. Add half a bowl of water and simmer 2 minutes, add mussel meat and cook 1 minute, and be ready to serve.
Author :

HKJEBN

Ingredients

New Zealand Frozen Mussel Meat 12 pieces (about 250g)

Zhangzhou Snow Fungus (M) 5 pieces (about 15g)

Black Fungus (M) 5 pieces (about 20g)

Red dates (XL) 6 pieces (about 40g)

Crushed Garlic 2 pieces

XO sauce 1 tablespoon (around 30g)

Dark soy sauce 1 teaspoon

Chicken powder 1 teaspoon