Category :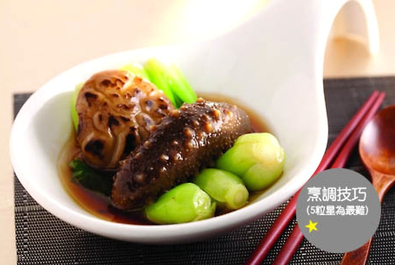 Function:
Tonifying and skin moisturizing
Step:
After soaking the Shitake mushrooms, cut off the mushroom pedicles;

Soak the sea cucumbers in water with ginger and scallion until they are soft. After soaking, clean the intestines;

Heat the clay pot, add oil and stir fry the mushrooms, then add 4 bowls of water and the chicken powder and rock sugar. Turn to `medium heat and stew for an hour, then add the sea cucumber, and cook until it becomes tender.

Add oyster sauce. Boil for a little while, and turn off the heat;

Blanch the baby pak choy with hot water, drain it, and place it on a plate. Top with mushroom and sea cucumber for serving.
Reunion Feast

Author :

HKJEBN

Ingredients

(Serves 8)

Selected shitake mushrooms 8 pieces (about 60g)

Selected kansai spiky sea cucumbers 8 pieces (about 40g)

Baby pak choy 250g

Chicken powder 1 Tea Spoon

Oyster sauce 2 Table Spoons

Rock sugar Small Piece

Ginger 2 slices

Scallion 1 piece