Category :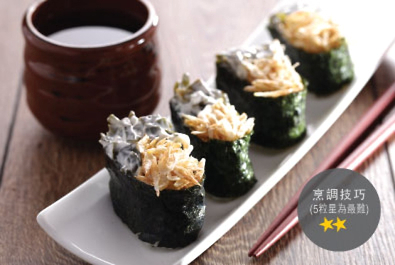 Step:
Stir-fry dried shrimp for later use.

After cleaning and soaking Kelp slice to soft, poach 10 mins for later use.

Wash Koshihikari rice , add sushi vinegar after cooked.

Premix kelp slices & salad dressing.

Take approximately 17g (golf ball sized) of Sushi Rice and make it into a ball.

Wrap the sushi with seaweed.

Put the mixture on top of the sushi rice, ready to serve.
Japanese Style

Author :

HKJEBN

Ingredients

(2 servings)

Dried Shrimp 20g

Kelp Slices 5g

Koshihikari Rice 100g

Sushi vinegar 50g

Seaweed 10 pieces

Salad dressing 1 teaspoon