Category :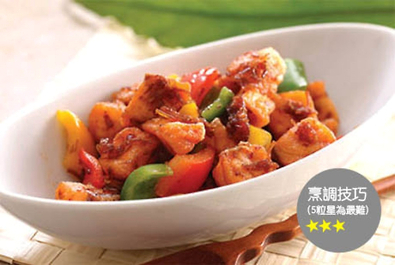 Step:
Defrost and wash the Salmon Portion, pat dry with kitchen paper and cut into cube shape. Marinate for 30 minutes, set aside.

Wash and cut the red pepper into thin slices, cut the scallion into thin pieces and cut the garlic flakes into tiny pieces, set aside.

Tap Salmon with potato starch, cook in a pan until the surface turn into gold in color, set aside.

Use another pan, add 1/2 tablespoon of oil, sauté the garlic, scallion and XO sauce, put in red pepper and seasonings and cook slightly, add salmon and cook for 2 minutes and be ready to serve.
Author :

HKJEBN

Ingredients

Salmon portion 300g (2 pieces)

Red Pepper 1 piece

Garlic flakes 2 pieces

Scallion 1 piece

Chicken powder 1/2 teaspoon

Salt adequate amount

XO sauce 1 tablespoon (around 30g)

Oyster sauce 2 teaspoons

Chicken powder 1/2 tablespoon

Potato starch 1 teaspoon