Category :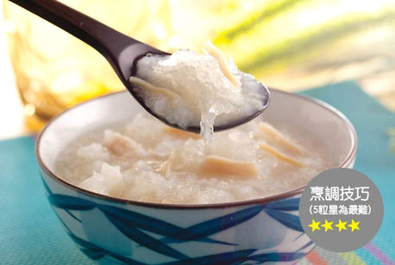 Function:
Moisturizes the lungs, improves countenance as well as strengthens bodily functions.
Step:
Soak the bird's nest shreds for 4 hours, after washing clean, steam in a clean water for 15 minutes;

Soak the Hokkaido Scallop pieces and keep the water. Wash the rice and the quinoa.

Take out a pot, add the scallops and the rice after the water boils. Switch to medium heat when the water boils again, and boil into congee. Add bird's nest and mix well for serving.
Reunion Feast

Author :

HKJEBN

Ingredients

(Serves 8)

High-quality bird's nest shreds 1 tael

Hokkaido scallop pieces 1 tael

Niigata Koshihikari Rice 4 tael

Organic golden quinoa 1 tael