Category :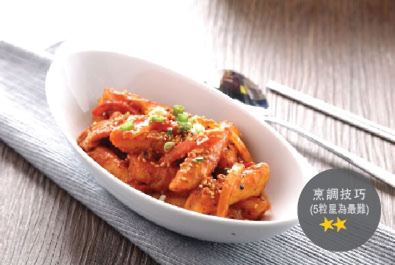 Step:
Marinate sliced pork with soy sauce, minced garlic and black pepper. Set aside.

Cut onion and red bell pepper into pieces, set aside.

Wash rice cake and set aside.

Heat the frying pan, add a little bit oil. Fry pork, onion and red bell pepper until done.

Then add Korean rice cake, Korean hot pepper paste, sugar and water to fry until done.

Add sesame oil and mix well. Switch off the heat. Sprinkle the white sesame and serve.

Tips:Further adapting the dish to your taste preference, green hot pepper or chili powder can be added while frying sliced pork, in order to enhance spicy flavor.
Korean Style

Author :

HKJEBN

Ingredients

(1-2 Servings)

Korean Rice Cake 120 g

Sliced Pork 200 g

Onion 1/2 pc

Red Bell Pepper 1/2 pc

Sesame Oil 1 tablespoon

White Sesame Adequate amount

Water 150 ml

Seasonings:

Korean Hot Pepper Paste 2 tablespoons

Sugar 10 g

Soy Sauce 1 tablespoon

Minced Garlic 1 tablespoon

Black Pepper Adequate amount